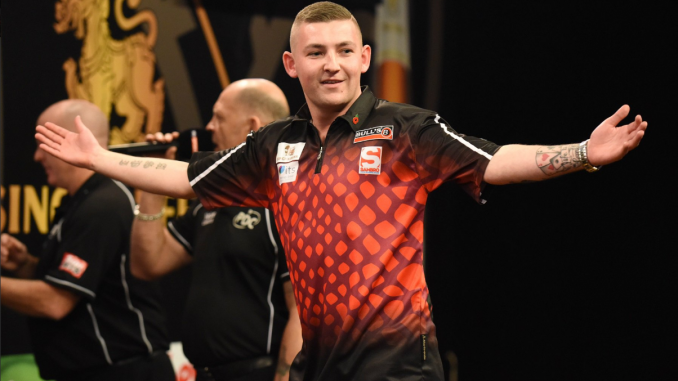 27-årige Nathan Aspinall sikrede sig tirsdag aften karrierens hidtil største triumf.
Med en placering som nummer 93 på verdensranglisten var 27-årige Nathan Aspinall ikke på forhånd udset nogle mærkbare chancer, da han og 127 øvrige PDC-spillere kæmpede om titlen ved sæsonens 18. Players Championship-event. Et fornemt turneringsgennemsnit på 96,69 var dog i sidste ende en medvirkende årsag til, at den tidligere finalist ved PDC's ungdomsverdensmesterskab formåede at lukrere på forhåndsfavoritternes tidlige exits, og dermed vinde finalen mod den ligeledes overraskende finaledeltager, Ryan Searle.
Finalen blev vundet 6-4, efter at de to spillere havde fulgtes – omend uharmonisk – ad til stillingen 4-4. Herfra afgjorde Nathan Aspinall så kampen med to 16-dartere, hvilket markerer den talentfulde englænders første turneringssejr på ProTouren, efter at have vundet en enkelt titel på både development og challenge-touren tidligere i karrieren.
Allerede i turneringens ottendedelsfinaler var favoritfeltet stærkt barberet, idet ingen fra verdensranglistens top 10 var at finde tilbage i turneringen. Retfærdigvis var dog hverken Michael van Gerwen eller Mensur Suljovic tilmeldt tirsdagens turnering i Barnsley.
Blandt dagens store tabere kunne mandagens vinder, Peter Wright, allerede efter første runde pakke pilene sammen, efter at have lidt et overraskende 6-2 nederlag til Arron Monk, hvor 'Snakebite' leverede et sløjt gennemsnit på 81,7.
LÆS OGSÅ: På en dag med to 9-dartere vinder Peter Wright Players Championship 17
Nathan Aspinalls samlede sejr betyder i øvrigt, at han rykker op som nummer 79 på verdensranglisten, alt imens Ryan Searle rykker op som nummer 69.
What a day can't believe it still. Winning my first senior PDC title feels amazing. Like to thank everyone for their support especially my sponsors @EasyTrimRoofing @TIMco_tweets @Prestige_PBS @Zxfsports.

— Nathan Aspinall (@NathanAspi) September 5, 2018
Du kan se samtlige resultater fra tirsdagens turnering her nedenfor.
Sidste 128
Arron Monk 6 | 2 Peter Wright
Ritchie Edhouse 6 | 5 Darren Johnson
Danny Noppert 6 | 1 Wayne Jones
Nathan Aspinall 6 | 1 Diogo Portela
James Wilson 6 | 0 Peter Hudson
Ryan Joyce 6 | 3 Peter Jacques
Stephen Bunting 6 | 1 Justin Pipe
Rowby-John Rodriguez 6 | 5 Michael Barnard
Joe Cullen 6 | 5 Zoran Lerchbacher
Madars Razma 6 | 0 Jamie Bain
Jelle Klaasen 6 | 2 Alan Norris
George Killington 6 | 5 Ricky Evans
Andy Boulton 6 | 4 Daryl Gurney
Jason Cullen 6 | 5 Adam Hunt
Steve Beaton 6 | 2 Dawson Murschell
Chris Quantock 6 | 1 Jim Brown
James Wade 6 | 1 Rhys Griffin
Brendan Dolan 6 | 4 Richie Burnett
Josh Payne 6 | 1 Jimmy Hendriks
Richard North 6 | 1 Joe Murnan
Gerwyn Price 6 | 4 David Pallett
Ronny Huybrechts 6 | 5 Ross Smith
Devon Petersen 6 | 4 Steve West
Matthew Edgar 6 | 1 Ryan Harrington
Ian White 6 | 2 Scott Taylor
Dirk van Duijvenbode 6 | 2 Kevin Painter
Vincent van der Voort 6 | 5 Yordi Meeuwisse
Jeffrey de Graaf 6 | 1 Simon Preston
Max Hopp 6 | 5 Robert Marijanovic
Jan Dekker 6 | 4 Mark Wilson
Tytus Kanik 6 | 3 Kim Huybrechts
William O'Connor 6 | 5 John Part
Rob Cross 6 | 0 Benito van de Pas
Simon Stevenson 6 | 5 Mickey Mansell
Ron Meulenkamp 6 | 2 Gabriel Clemens
Davy Van Baelen 6 | 4 Mark Dudbridge
Luke Woodhouse 6 | 4 Dave Chisnall
Kyle Anderson 6 | 2 Martin Schindler
Mervyn King 6 | 1 Cameron Menzies
Andrew Gilding 6 | 5 Terry Jenkins
Adrian Lewis 6 | 5 Steve Hine
Kirk Shepherd 6 | 3 Scott Darbyshire
Jeffrey de Zwaan 6 | 5 John Davey
Dimitri Van den Bergh 6 | 5 Vincent Kamphuis
Simon Whitlock 6 | 1 Ross Twell
Cody Harris 6 | 4 Gary Eastwood
John Henderson 6 | 4 Stephen Burton
Jarred Cole 6 | 4 Jamie Lewis
Kevin Burness 6 | 2 Jonny Clayton
Robert Thornton 6 | 1 Eddie Dootson
Steve Lennon 6 | 4 Paul Nicholson
Robert Owen 6 | 3 Jamie Caven
Darren Webster 6 | 2 Cristo Reyes
Mark Webster 6 | 3 James Richardson
Keegan Brown 6 | 3 Matthew Dennant
Bradley Brooks 6 | 5 Adam Huckvale
Michael Smith 6 | 2 Dennis Nilsson
Luke Humphries 6 | 2 Terry Temple
Christian Kist 6 | 3 Chris Dobey
Tony Newell 6 | 1 Prakash Jiwa
Gary Anderson 6 | 1 Aden Kirk
Toni Alcinas 6 | 5 Alan Tabern
Jermaine Wattimena 6 | 4 Dave Prins
Ryan Searle 6 | 4 Mario Robbe
Sidste 64
Ritchie Edhouse 6 | 3 Arron Monk
Nathan Aspinall 6 | 4 Danny Noppert
James Wilson 6 | 2 Ryan Joyce
Stephen Bunting 6 | 2 Rowby-John Rodriguez
Joe Cullen 6 | 1 Madars Razma
Jelle Klaasen 6 | 2 George Killington
Andy Boulton 6 | 1 Jason Cullen
Steve Beaton 6 | 2 Chris Quantock
Brendan Dolan 6 | 3 James Wade
Richard North 6 | 5 Josh Payne
Gerwyn Price 6 | 4 Ronny Huybrechts
Matthew Edgar 6 | 3 Devon Petersen
Ian White 6 | 2 Dirk van Duijvenbode
Vincent van der Voort 6 | 3 Jeffrey de Graaf
Jan Dekker 6 | 4 Max Hopp
William O'Connor 6 | 4 Tytus Kanik
Simon Stevenson 6 | 3 Rob Cross
Ron Meulenkamp 6 | 2 Davy Van Baelen
Luke Woodhouse 6 | 5 Kyle Anderson
Mervyn King 6 | 0 Andrew Gilding
Adrian Lewis 6 | 1 Kirk Shepherd
Jeffrey de Zwaan 6 | 5 Dimitri Van den Bergh
Cody Harris 6 | 4 Simon Whitlock
John Henderson 6 | 0 Jarred Cole
Robert Thornton 6 | 4 Kevin Burness
Steve Lennon 6 | 3 Robert Owen
Darren Webster 6 | 0 Mark Webster
Keegan Brown 6 | 3 Bradley Brooks
Michael Smith 6 | 3 Luke Humphries
Tony Newell 6 | 5 Christian Kist
Gary Anderson 6 | 5 Toni Alcinas
Ryan Searle 6 | 3 Jermaine Wattimena
Sidste 32
Nathan Aspinall 6 | 4 Ritchie Edhouse
James Wilson 6 | 4 Stephen Bunting
Jelle Klaasen 6 | 4 Joe Cullen
Steve Beaton 6 | 2 Andy Boulton
Richard North 6 | 2 Brendan Dolan
Gerwyn Price 6 | 4 Matthew Edgar
Ian White 6 | 1 Vincent van der Voort
Jan Dekker 6 | 5 William O'Connor
Ron Meulenkamp 6 | 4 Simon Stevenson
Mervyn King 6 | 1 Luke Woodhouse
Adrian Lewis 6 | 4 Jeffrey de Zwaan
John Henderson 6 | 3 Cody Harris
Steve Lennon 6 | 1 Robert Thornton
Darren Webster 6 | 3 Keegan Brown
Tony Newell 6 | 5 Michael Smith
Ryan Searle 6 | 5 Gary Anderson
Sidste 16
Nathan Aspinall 6 | 3 James Wilson
Steve Beaton 6 | 4 Jelle Klaasen
Gerwyn Price 6 | 1 Richard North
Ian White 6 | 2 Jan Dekker
Ron Meulenkamp 6 | 2 Mervyn King
John Henderson 6 | 3 Adrian Lewis
Steve Lennon 6 | 5 Darren Webster
Ryan Searle 6 | 2 Tony Newell
Kvartfinaler
Nathan Aspinall 6 | 5 Steve Beaton
Ian White 6 | 5 Gerwyn Price
Ron Meulenkamp 6 | 3 John Henderson
Ryan Searle 6 | 4 Steve Lennon
Semifinaler
Nathan Aspinall 6 | 5 Ian White
Ryan Searle 6 | 5 Ron Meulenkamp
Finale
Nathan Aspinall 6 | 4 Ryan Searle